We, four people who love adventure, between 30 and 60 years old, have fulfilled a dream. Two weeks crossing Mongolia without a guide. We never travel with a guide, too little freedom, too little adventure, too little uncertainty. And that's what traveling is all about. And that's why we embraced the concept of "Follow The Tracks." A touch of security through a planned route with a digital roadbook, and maximum freedom to shape the day around it. No guide telling us when to move on, when to take a break, and where to eat. No guide constantly being a "part of the journey." Just the four of us in the Gobi Desert, the Altai Mountains, and the vast steppes of Mongolia.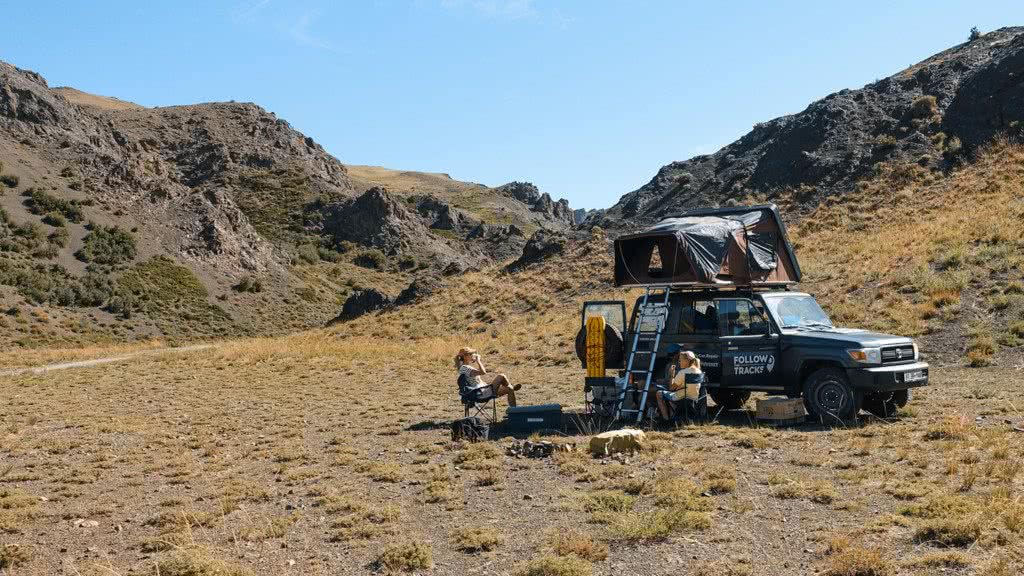 14 days on the Eagle Route
Arrival in Ulaanbaatar
In a fully packed plane, we flew directly from Frankfurt to Ulaanbaatar. It's a big city that we wanted to leave quickly. However, we still immersed ourselves in the power center of Mongolia for a day. Temples amidst skyscrapers and simple residential blocks, markets with everything you need for the journey, a few European tourists who got lost.

Shopping
On the agenda was shopping and taking over the Land Cruiser. Both were a lot of fun. Och (a great guy), our Mongolian jack-of-all-trades (from Follow the Tracks), took us by the hand in uncertain terrain. We went together with him to three different supermarkets and bought what we thought we needed. Grilling stuff for the first campfires, vegetables, superglue (you never know), noodles with tomato sauce, potatoes, beer, wine, Korean ready-to-eat meals in pouches for emergencies, bread, water, and so on. Och provided us with plenty of advice. He has helped his guests in the supermarket too many times to buy the right things for the Mongolian steppe.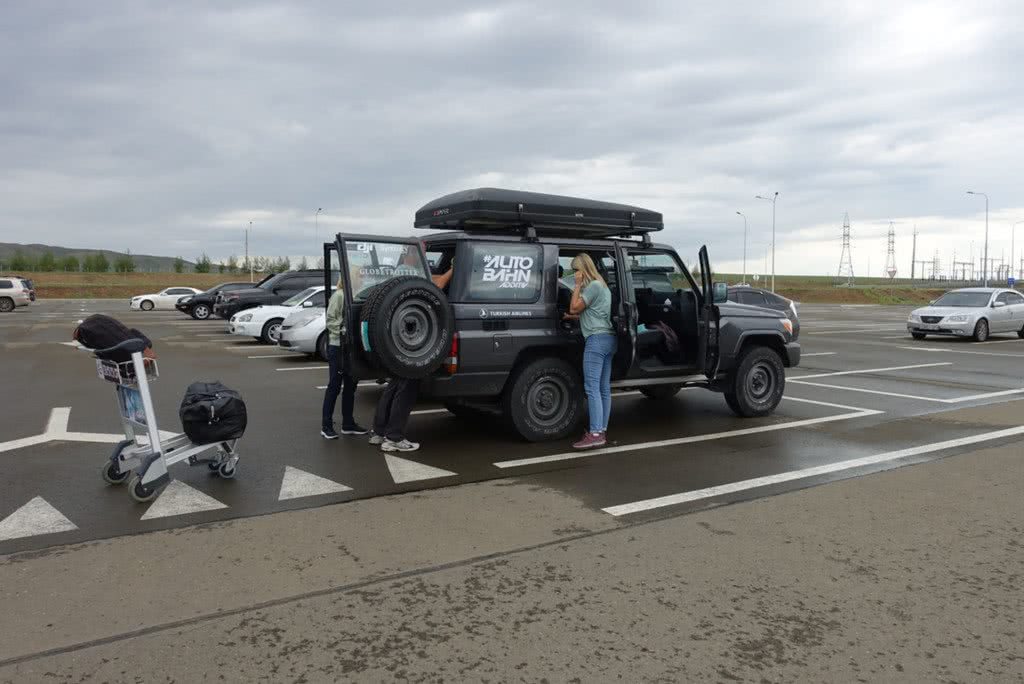 The Car
Of course, we had already seen all the videos on Follow the Tracks' website. But when the car with the roof tent and its camping equipment is standing in the hotel parking lot, and you get a first taste of off-road adventure, it's different. We are very minimalist when it comes to equipment. So, we took everything out of the car and loaded it back piece by piece. We definitely left half of it with Och. No spare tent (we all sleep in the roof tent), no electric kettle (we have a cooking pot), but we brought wood for the fire (there's no wood in the desert) and various other bits and pieces. Och also explained to us what we would have needed everything we left behind for. But as I said, being minimalist is more fun.


Journey from Ulaanbaatar to the Gobi Desert
The first night in nature is already a mega highlight. We look for a sheltered spot (it's always windy everywhere) and unfold the roof tent in the face of a breathtaking canyon landscape. Asian day tourists are taken away by their guides in minibusses, but we stay behind alone. Solitude, freedom, undisturbedness, a feeling that accompanied us on the journey. We sleep in a rooftop tent with four people. It's possible, but only with very close friends or family. But what could be more beautiful than climbing into the rooftop tent together under the infinite starry sky at night and recounting the day's experiences?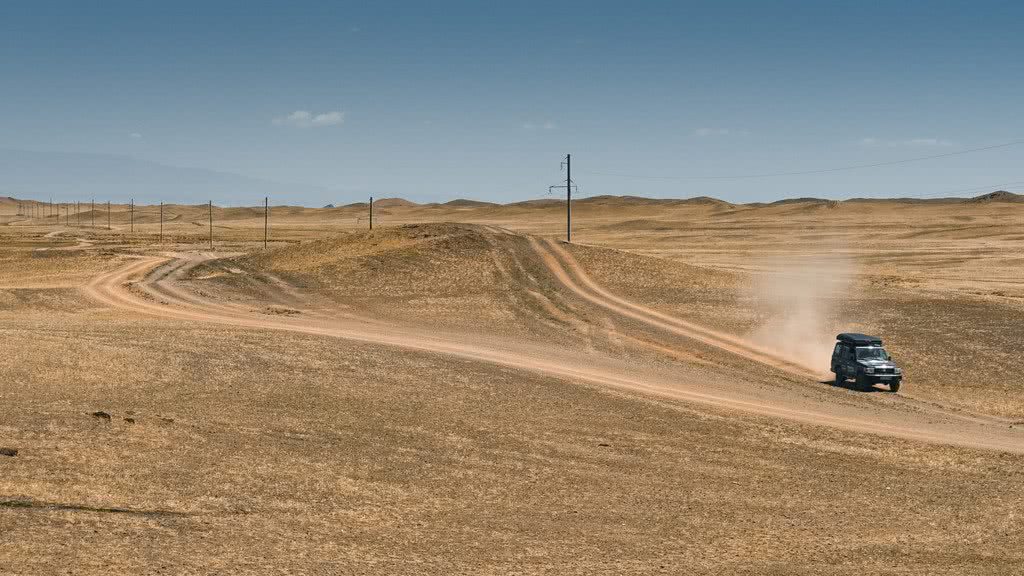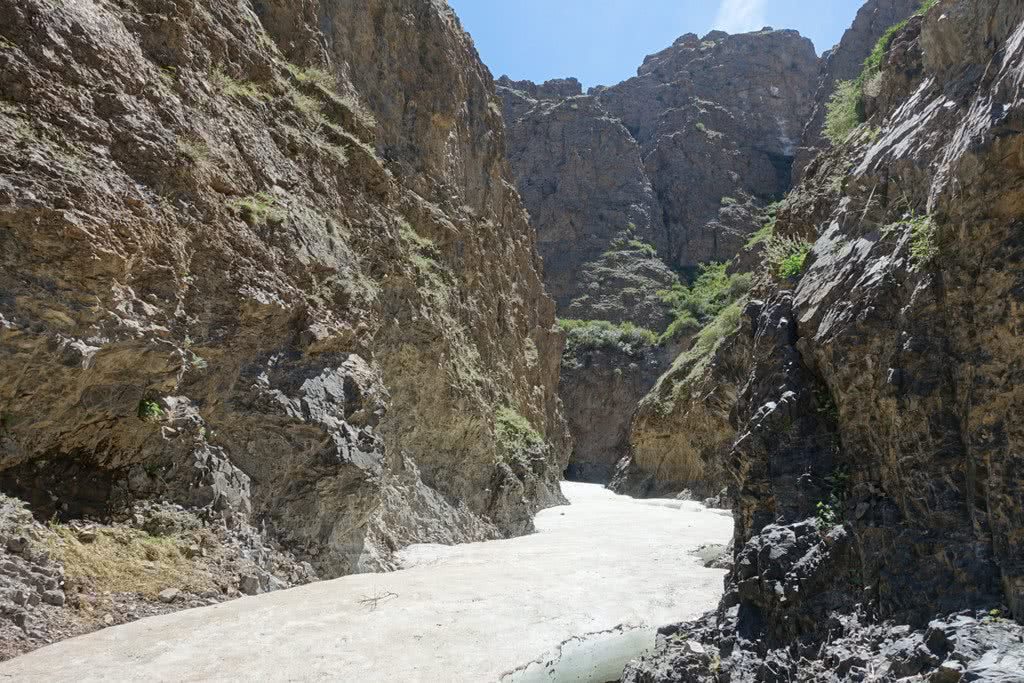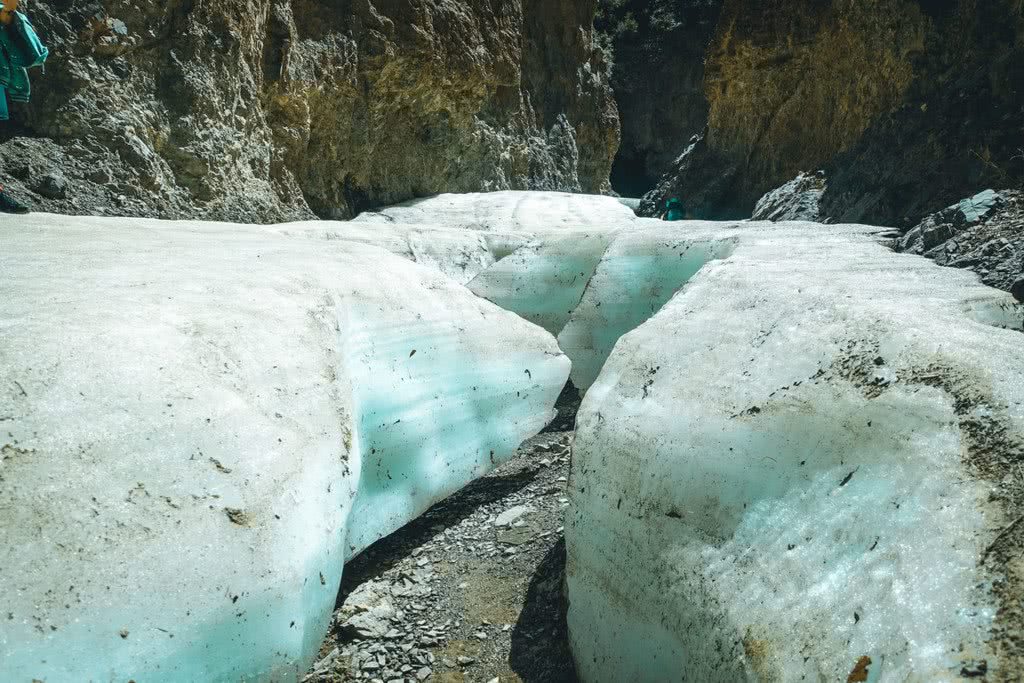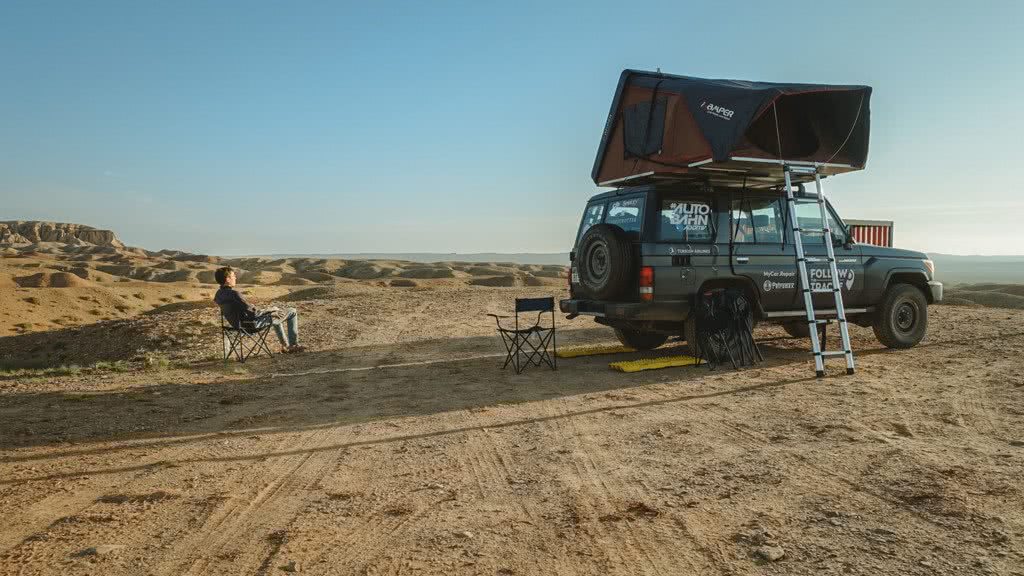 Arrival in the Gobi
We were forewarned that it would be lonely and pure nature. We were advised to always have 3 liters of water per person in the car, just in case. We rarely come across other people. We would have limited mobile network coverage and should have enough food with us. But when you are actually there, with just a few yurts scattered here and there, a few camels, sheep, Mongolians on horses, or in Toyota Prius cars (I believe all used Toyota Prius cars end up in Mongolia ;-) ), it is simply breathtakingly beautiful. No matter what you have seen before in documentaries, on Instagram, or elsewhere, this vastness must be experienced. In the midst of it all, we camped at a sand dune with emerging tourism. Staying in a ger camp, taking a shower (there is actually water in the desert), and, of course, going on a classic camel tour in the dunes helped to break the solitude of the past days. And all of this without a guide, without constraints, just drifting and following the track on the Samsung pad. Without the track on the tablet, we would have been lost. We would have never dared to venture into these regions of Mongolia on our own. And all the highlights are marked on the app, including descriptions and a few pictures. This is what makes planning your own trip enjoyable. It's an adventure with the necessary safety.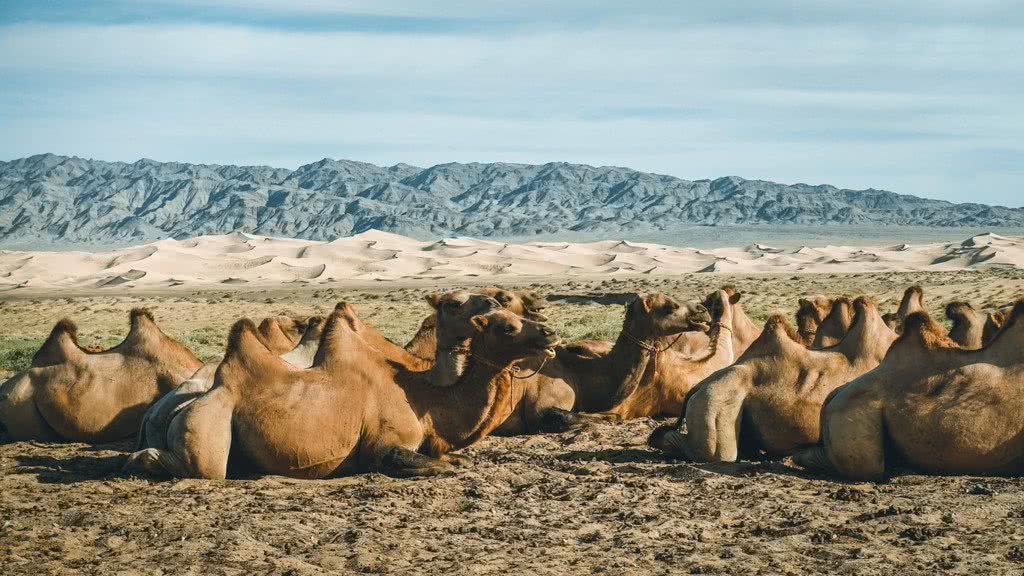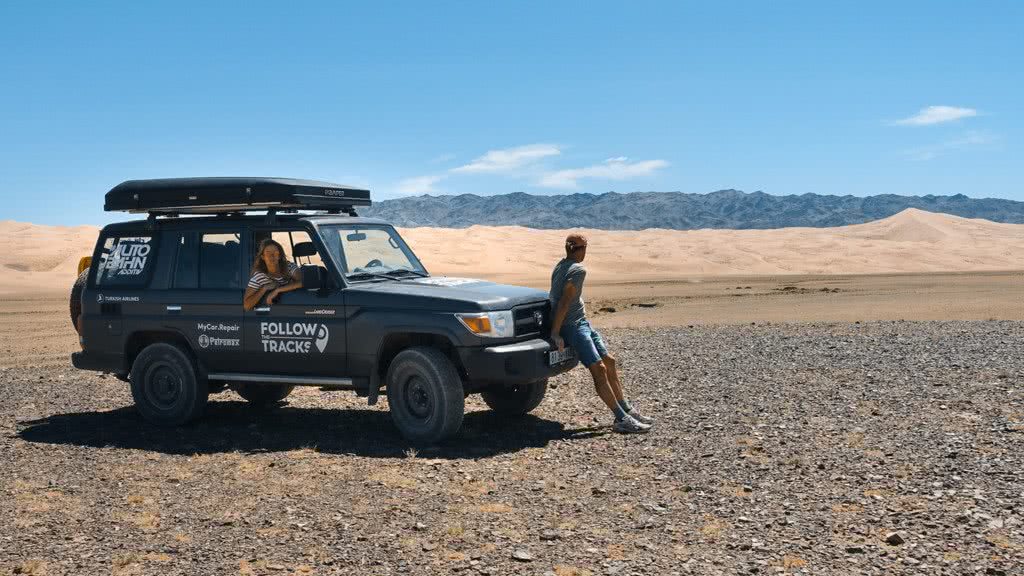 Cooking
Of course, there are also restaurants in the towns along the way. Small stalls where food is cooked on gas stoves or fire ovens. It's usually simple but good food, and we never got sick. In the evenings, we always find ourselves in the wilderness without a restaurant. So we cook with the hardcore kitchen equipment from Petromax. A sturdy steel pot, a grill grate, indestructible tin plates and cups, a cast-iron skillet, everything for the fire or the gas stove we had with us. The gas cartridge stove is convenient and, when you need to be quick, a reliable option. Och provided us with enough spare cartridges. But cooking and grilling on an open fire is even more fun. And every now and then (although rarely), Mongolians pass by. On horseback, with Chinese motorcycles, in Toyota Prius cars, and they just stop by. Just to see what these tourists are doing. They join us by the fire, speak Mongolian, have a beer (from us), the children are happy with some crayons or sweets (definitely bring some). And then they move on. Somehow, we are a welcome change in these lonely areas. Once, an English-speaking Mongolian couple also stopped by and wanted to know everything. How the rooftop tent looks, how we find our way (as there are hardly any road signs), what we do alone at night, or what we eat. Even though the situation may seem a bit daunting at first when you suddenly find yourself alone in the desert facing a Mongolian man (who is, of course, superior to you in all relevant aspects there), we can still say: Fear not, they just want some company, a bite to eat or drink, and they would never touch your belongings. This is cross-cultural understanding at its finest.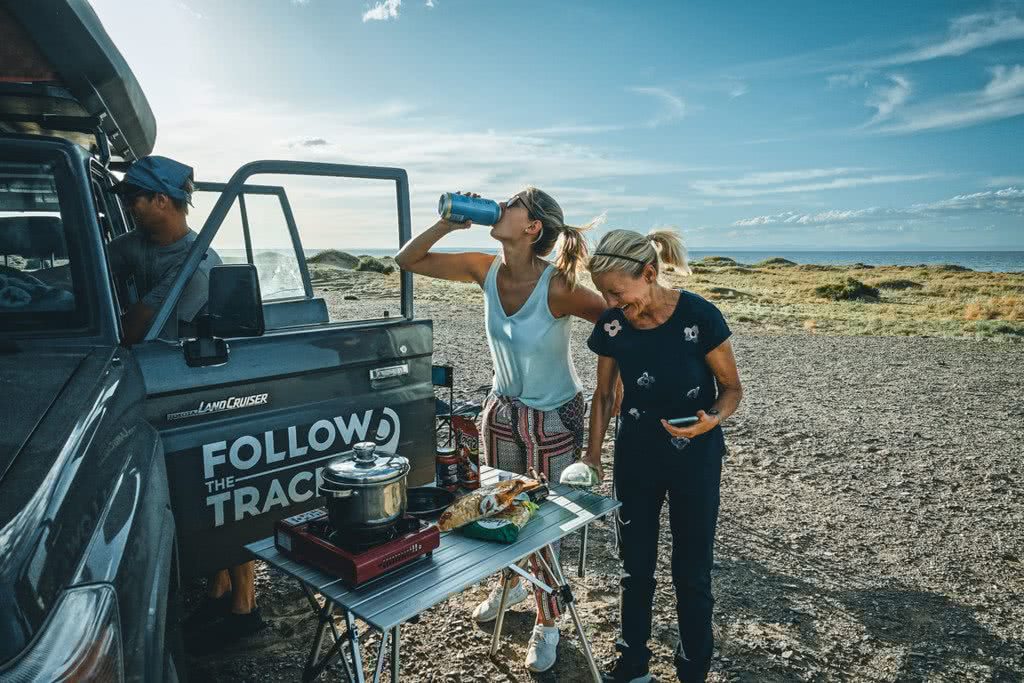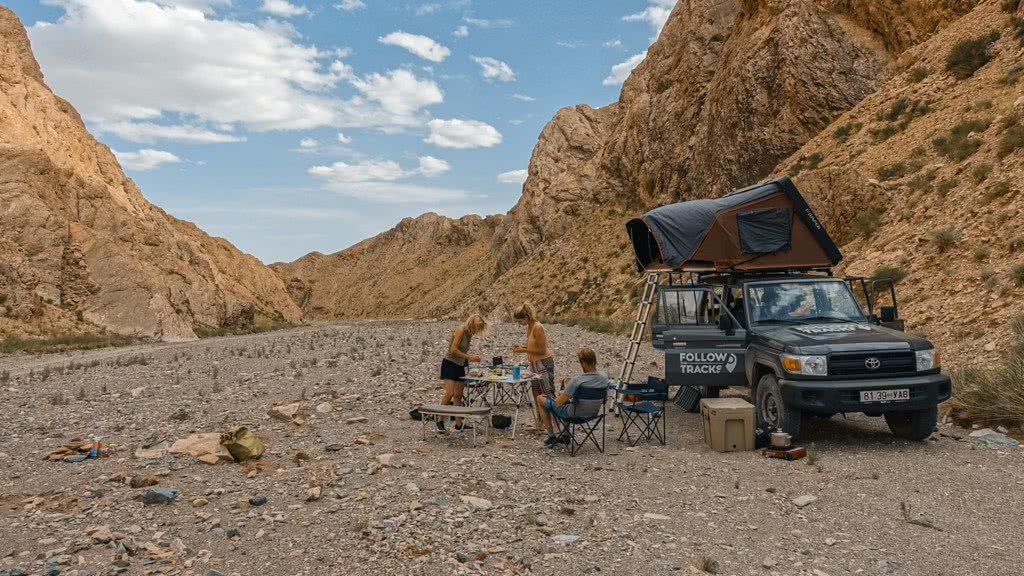 From Gobi Desert to the Altai Mountains
The rocky deserts, steppes, and sand dunes slowly give way to the mighty Altai Mountains. We are looking forward to a shower, a town at the foot of the mountains, people, a hotel with a comfortable bed and amenities. After days in the desert, in ger camps (yurts), and nights in the rooftop tent, we are excited for a bit of civilization. Going out for good Mongolian food, sitting at a table in a restaurant without the wind blowing, the combination of it all is sometimes nice, despite our adventurous spirit.
In the Altai Mountains, we see snow-capped peaks, herds of horses, and larger settlements with a Kazakh influence.
We are gradually ascending from an average altitude of 1500 - 1800 meters (yes, the desert is high, cold at night, and always windy) to 2000 - 3000 meters.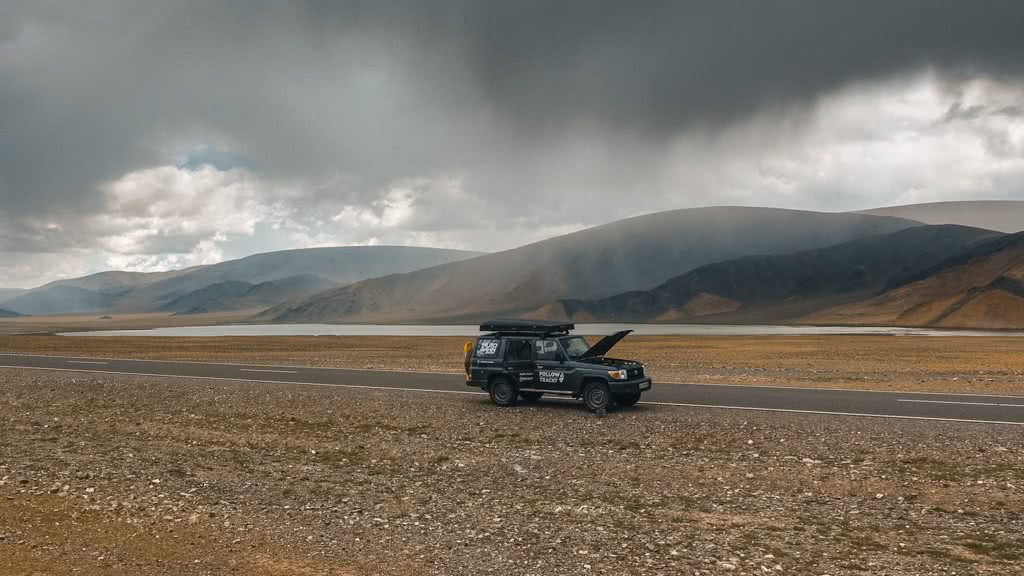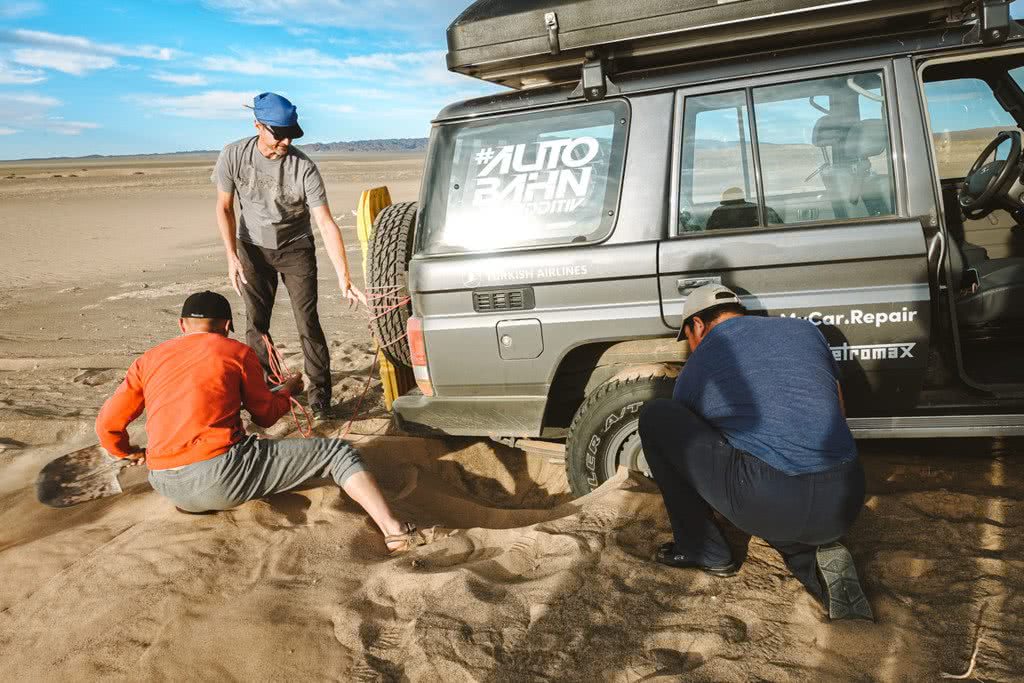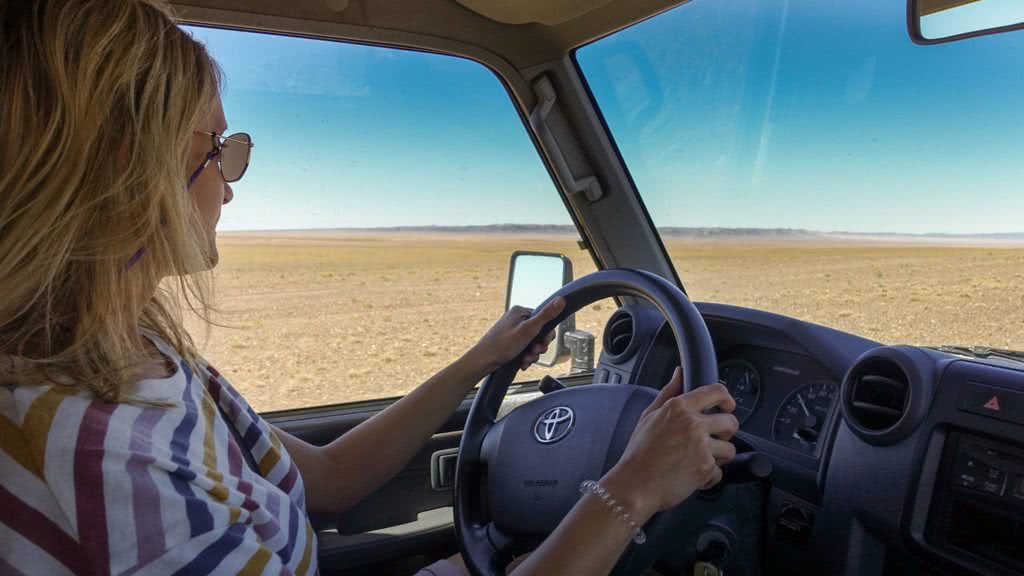 Eagle Hunters
One of the highlights of the tour is spending 2 1/2 days with a Mongolian family. We sleep in their ger, eat sheep and flatbread with them, play with their young children, ride their horses, use their toilet (simply walk far into the steppe and sit), and experience the real life of a nomadic family. The eagle becomes a mere prop, serving the purpose of preserving tradition and posing for photos. The true experience is living with the Mongolian family.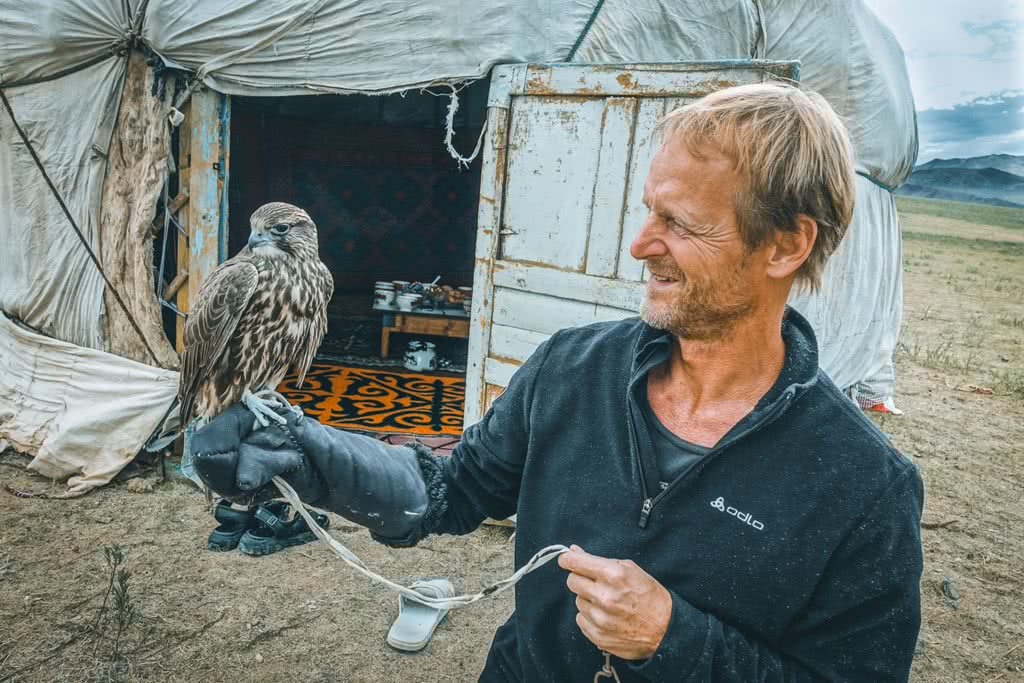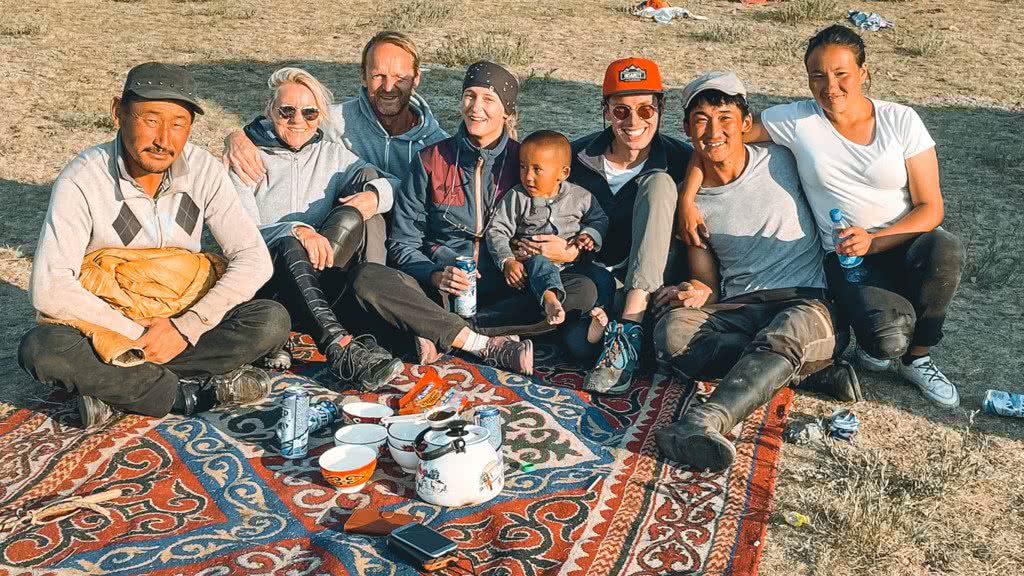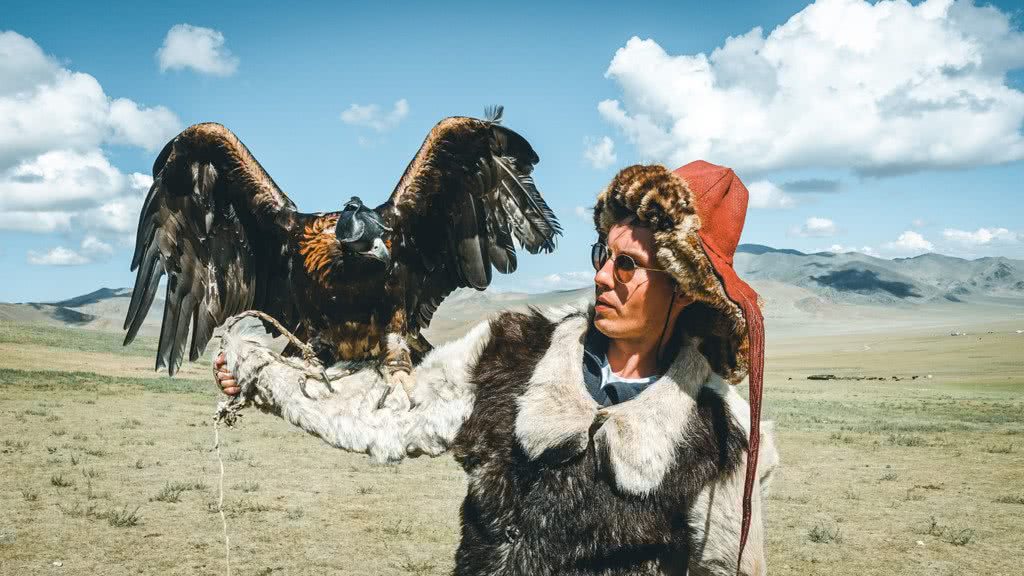 The scenic way back
Our domestic flight to Ulaanbaatar was canceled due to the aftermath of the COVID flight schedules. But "Follow the Tracks" had a Plan B, of course. Either drive back to another city and fly back from there or drive to Ulaanbaatar ourselves on parts of the horse route. As I mentioned, we love adventure, so we embark on the very long journey back by car. Daily stages with up to 700 km and a significant portion of gravel challenge our endurance. But with regular driver switches and a landscape that is probably unmatched anywhere else in the world, the tour becomes a true delight.
River crossings (yes, there is a lot of water in Mongolia), nights at salt lakes with picturesque sunsets, volcanoes, and eventually even green meadows, forests, and yaks turn the long journey into an unforgettable experience.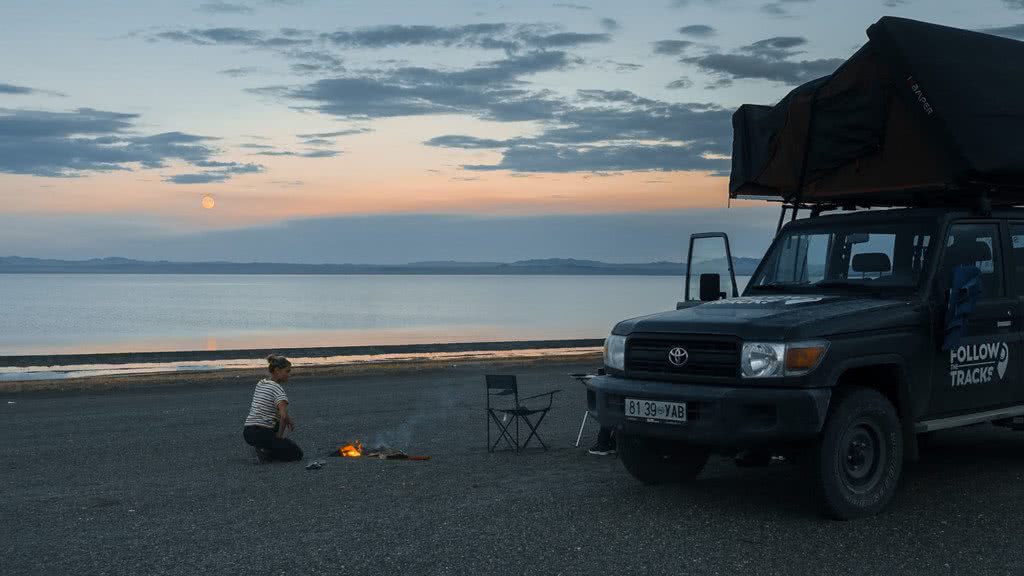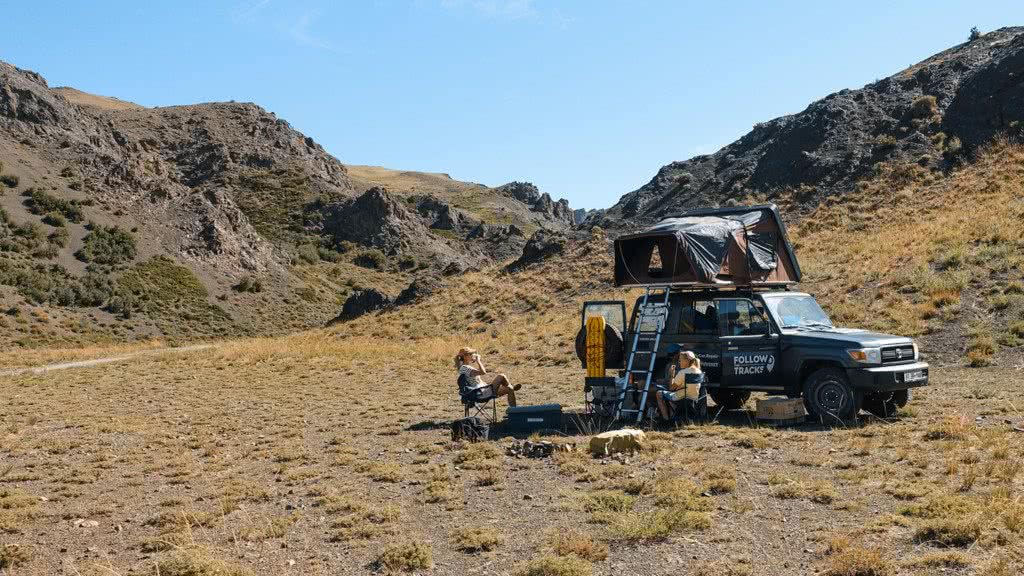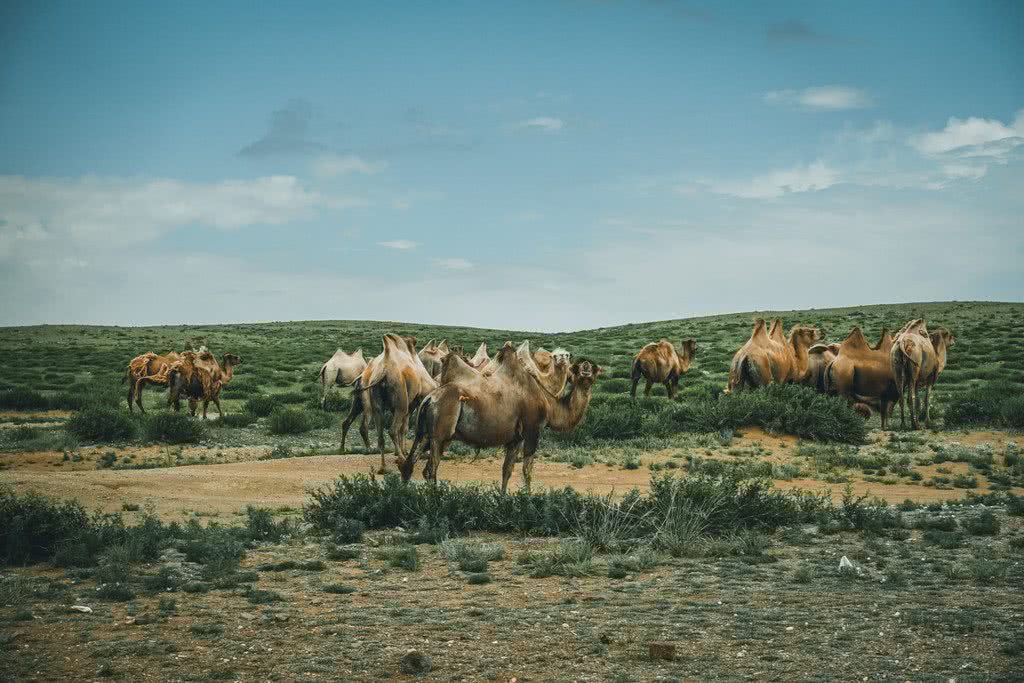 Return Flight
The last night in Ulaanbaatar at the luxury hotel feels somewhat surreal. Having a drink at the hotel bar with a magnificent view of the city, enjoying a Mongolian hotpot as the final dinner, and spending a night in a soft hotel bed complete the experience.

The Toyota Land Cruiser with its four-wheel drive, low-range gearbox, differential lock, and rooftop tent has bravely taken us over the approximately 4,000 km. At high altitudes (above 2000 meters), the non-turbocharged 6-cylinder 3-liter diesel engine (yes, such engines still exist) struggled, but it never let us down. The sand tracks were conquered with the help of sandboards and the folding shovel, and whenever we got stuck in a muddy hole, the always helpful Mongolians pulled us out with their Russian 4x4 minibus.
The rooftop tent was our retreat, cozy, sheltered from the wind, off the ground, warm enough inside our sleeping bags, and offering a magnificent view when we unzipped it in the morning. The Petromax kitchen equipment was practically invented for the wilderness. Indestructible plates, pots, cups, and utensils, not to mention the sturdy cooler box. It doesn't cool on its own, but it provides excellent insulation. Whenever there was ice available (in the small supermarkets along the way), we filled the cooler box with it, ensuring that none of our food spoiled.

Conclusion

If you want to experience Mongolia on your own and don't have four months to explore, "Follow the Tracks" is the perfect choice.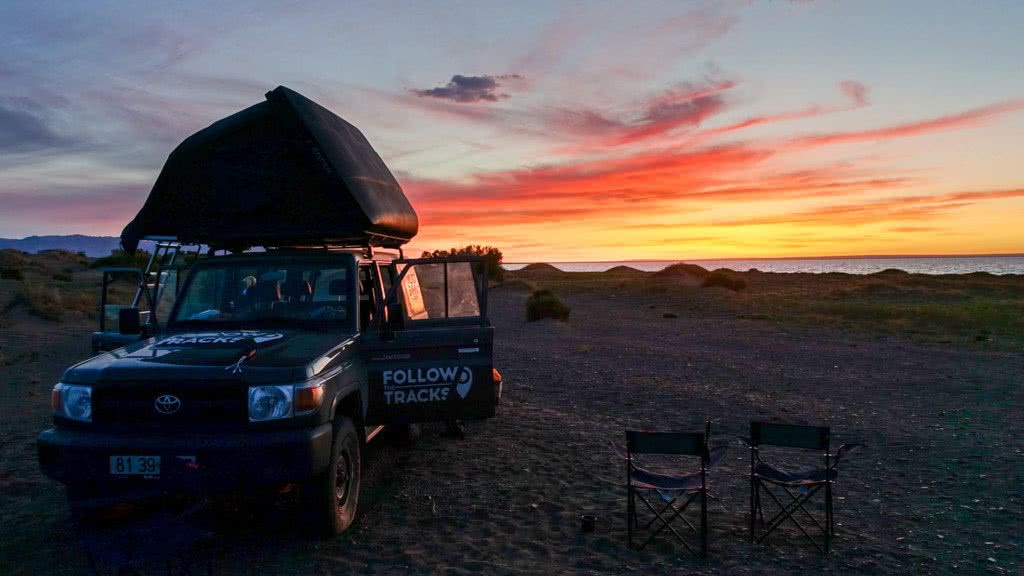 ---